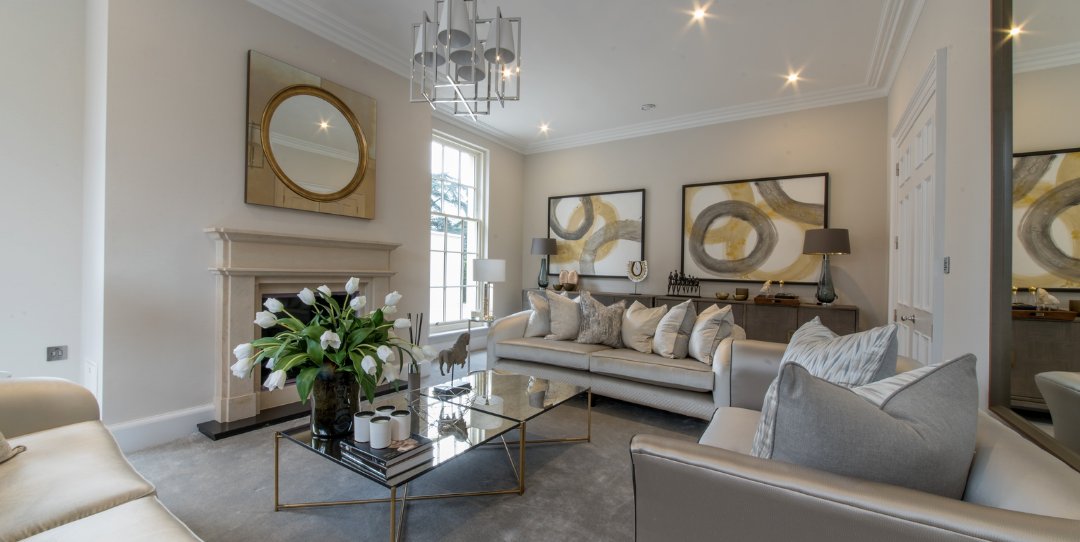 Some trends are finding their way throughout the entire home, such as the rising trend of biophilia, which sees plantlife growing abundantly within the home across entire walls and along stairwells. The same can be said about colour schemes, or particular colours for that matter, particularly 'Living Coral'; a light shade of orange with pinkish hues that was picked at Pantone's 'Colour of the Year'.
We reached out to professionals and experts of the industry to see what they thought 2019 had in store. After speaking to several sources with a keen eye for style we thought that Amanda Smalley, a Designer at Anthony Mullan, had a good handle on what her clients are expecting in the upcoming year:
"Dark colours, such as blues and greys, are really popular at the moment. After all, mid to dark greys are a much safer option if the client is a bit more wary about what's 'fashionable'. Dark and navy blues teamed with gold/brass accessories are a big one too, and if you keep the accessories small, such as light fittings, appliances etc, then these are relatively easy to change out if the client goes off this colour scheme further down the line.
"Worktops are also a great way to introduce colour and/or a feature piece into the design. Marble effect worktops in quartz stones are very popular. The Carrara's or Calacatta's are the best for the marble effect, and are much more durable in a working kitchen. Plus there are so many different patterns to choose from. Granite is a great one too, if the client doesn't mind a bit more upkeep. I always recommend the client goes to see the granite slabs before choosing, as each piece is different and therefore completely unique!"
As an expert in all things kitchen design, Smalley's take on 2019 trends are trustworthy, though some may be wondering; does the same knowledge apply to the rest of the home? Interior decor trends are all well and good for the home in general, but what about specific rooms? Whether you're looking to focus your attention on revitalising just one room in the house or you're seeking some sage advice for a room-by-room renovation check out what we, with the help of experts and insider insight, have discovered are most likely to remain magnificent throughout 2019.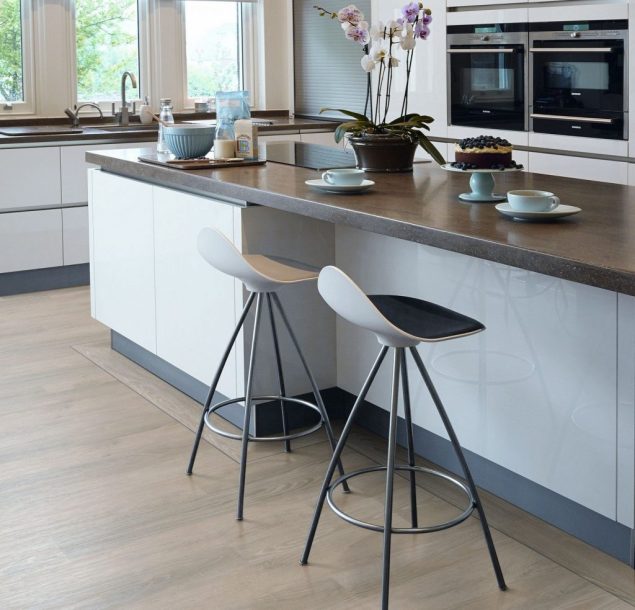 The Kitchen
Popularity for what felt like timeless statements seems to be rounding off in 2019, with designs that are almost synonymous with modern style falling out of favour. Some of these include the infamously hard to clean pure white kitchen ensembles, as well as granite, which has often been cited as having a love-hate relationship with many kitchen designers.
End of All White: Contrasting the modern feel of all white, many are hailing 2019 as a year of darker tones, whether it's with occasional elements of sleek matte or completely changing things with all black countertops. Black & Gold is still incredibly stylish, as well as copper tones, so feel free to go classy.


Spanish & Moroccan Inspiration: Taking inspiration from the more sunny & colourful locations of Spain and Morocco, an undeniably eye-catching visual element starting to emerge in more and more kitchens are the kind of bright tiles often associated with these lively vacation spots.


'Hygge' Style Approach: The Danish & Norwegian word for and expression for creating a cosy & comfortable environment, 'Hygge' has become something akin to a lifestyle, so much so that some describe it as the soul of Danish identity. By embracing minimalism and leaving no clutter, you can make your home Hygge, and really, keeping a home clean and welcoming will never go out of style.


Perfectly Practical: Keeping in theme with the 'less is more' mentality of Hygge style, converting bland counters into something more practical (and simultaneously stylish) is becoming more and more popular. Instead of keeping pots and pans in the counter next to the sink, why not install a glass fronted wine cooler? Not only will it look better than a bland counter, it'll also be full of life-giving wine; it's a win-win.


Terrazzo: Most will agree that fashion travels in a circular motion, with the loop being set to a fairly predictable 30 years. This certainly seems to be true of 2019, as many are heralding the return of early 60's, then revived 80's Terrazzo style, especially for kitchen surfaces. The resilience of this fashion (and it's stubbornness to stay down) might give your kitchen the edge you've been looking for.


Statement Flooring: Most rooms in the home in 2019 are suggesting making a statement piece by painting the ceiling, but experts believe that the kitchen would benefit more from a vibrant floor. The vibrancy of new, high quality floor can really pull everything else in the kitchen together.


Rustic & Modern Style: Though some may believe these styles are juxtapositioned they can fuse together to create truly stunning looks, and nowhere is this combination more aptly applied than in the kitchen. The classic comforts of well-cooked home meals and wholesome family dining is exemplified by rustic touches, whereas the pleasure a truly stylised home is best represented by modern tones; two key elements to a 2019 lifestyle.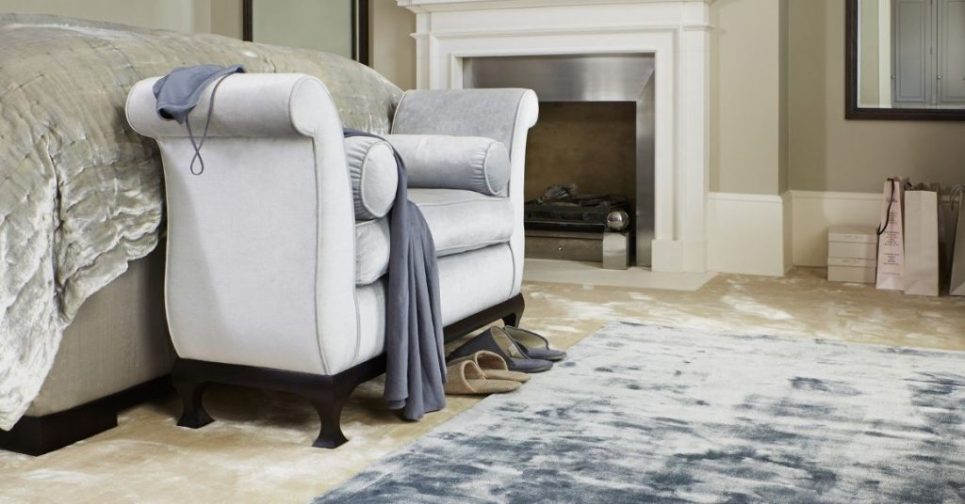 The Bedroom
The bedroom is and always will be the heart of the home; the more private, if not solely exclusive, room in the house. Should the potential for only you to see this room make it any less deserving of a new look? Of course not. Whether it's your master bedroom or you think that the kid's room needs freshening up, 2019 should be the year you make a change.
Hotel Room Aesthetics: Staying in fancy hotels always offer us the taste of the good life, so why wouldn't you want the exquisite aesthetics of a five star hotel in your own home? 2018 saw a rising trend in emulating the decorators of fine hotels, and the desire to capture this feeling a fancy living has continued to pick up momentum in 2019.


A Touch of Texture: The perfect tip for making more out of less, smaller rooms can gain a little bit more pop with textured items. A subtle means of making the interior seem more fleshed out without being overbearingly fuller, having the likes of textures wall art, ridged cushions and thick patterned bedsheets.


Storage Trunks: Ottoman beds are often stylish and superb means of decluttering a bedroom, but a greater way to visually utilise a space saving storage solution is by adding a storage trunk to the end of the bed. Whether they take the form of a vintage steamer trunk or a sleek velvet upholstered storage trunk, placing one by the foot of them bed acts as a means of storing possessions that are durable enough to sit on.


Beds for Kid's Bedrooms: Whether your child's bed is large or small, they always need more space and make use of what they've got. Trundle beds and Cabin beds serve as spectacular means of keeping kids safe in bed and their room clutter free. A lot of these beds are often designed with an especially creative mindset too, making them fun for kids.


Beds for Adult's Bedrooms: Canopy and four poster beds have always been grand statement pieces, and they're set to be even grander in 2019. Even more stylish for the year is a growing trend of making use of distinct & elaborate headboards; with mirrored headboards serving as especially glamorous choices. The bed is the centrepiece of the bedroom, after all, so it deserves a fresh look.


Make Space for Furniture: Practically speaking there should be plenty of space to move around in the bedroom, but ensuring there's enough for additional furniture is essential for a modern, 2019 style bedroom. As aforementioned, the hotel, chic style of a bedroom that can comfortably accommodate the likes of a loveseat, a small coffee table and a few chairs grants a bedroom an elevated level of sophistication, whilst items like chaise and lounge chairs invites an additional element of comfort..   


Floating Shelves: As useful as traditional shelves may be, the floating variant of shelves simply stand out a lot more and look good whilst doing so. Their minimalist designs often invite plenty of opportunities for creatively displaying possessions, especially if the shelves can match the colour of the wall.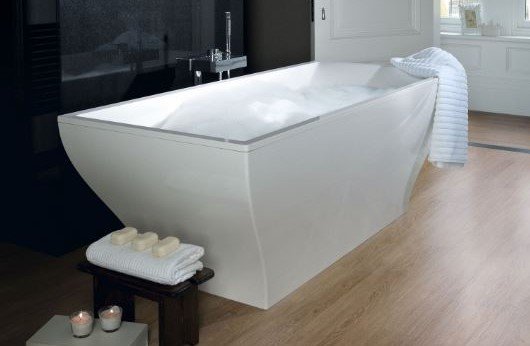 The Bathroom

It seems almost poetic that the trends in 2019 are focusing on keeping style clean in bathrooms. Bold furnishing choices matched with simple colour schemes has always been a subtle look, yet this year its as strong as ever.
Art Deco Inspiration: The Old World stylings of the bold and beautiful Art Deco style are coming back, and though its majestic look works wonders throughout the house its nuanced feel probably works best in the bathroom. The clean, streamlined look works wonders with the likes of bathtubs, especially if it can features geometric ornamentation in subtle ways, such as stylised taps.


Subtle & Neutral: Though more striking colour and pattern choices may be stylish throughout the rest of the home, we believe that in 2019 bathrooms still look their best when adhering to more neutral tones, like grey, white and cream. These monochromatic shades are virtually synonymous with modern decor, and serve as an excellent basis for any other additional elements one would want to bring into the bathroom.


Superb, Like a Spa: Wide bathtubs for delightful soaks don't just serve the body well but the eye as well. A growing trend has also seen bathtubs moving away from static spots by the wall; if the plumbing allows it, why not experiment with moving the tub closer to the centre of the room? As long as there are still plenty of spaces for relaxing candles. Even upgrading a showerhead to something bigger and larger can add a little zest to a bathroom's overall sense of aesthetics.


Utilising Large Items in Small Spaces: Smaller bathrooms, such as little en-suites and guest bathrooms, can be greatly benefited with the likes of a large mirror. This technique doesn't so much as create an illusion of more space, it merely attracts the eye towards the larger piece. This can work as brilliant, relatively low cost method of making the most of a small space!


Striking Imagery: As long as it's not placed directly in the path of steam, artwork can really brighten up even the bathroom. Too often bathrooms are sparsely, if at all, decorated, and so making a change in 2019 serves as the perfect excuse to experiment with some hanging art.


Subtle Tones: Utilising dark, but not tremendously dark, materials such as pewter and gunmetal grants a room depth, especially when contrasting with lighter and brighter coloured walls.


Exposed Pipes & Plumbing: The simplistic style showcased by the industrial nature of exposed plumbing can truly go a long way when combined with an established chic, modern decor.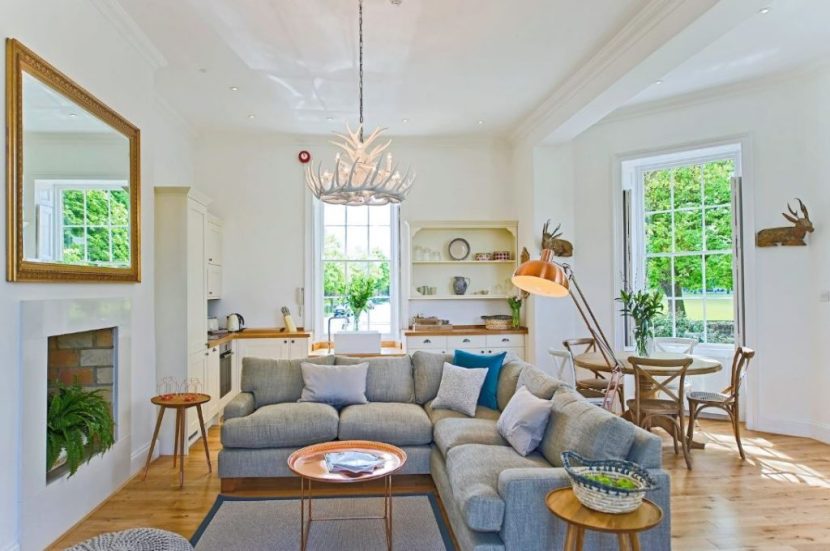 The Living Room
Minimalism seems to be losing sway as maximalism is becoming more and more trendy. Making use of large spaces by filling them with arts & furniture, distinguishing separate areas using blinds & partitions and even painting the ceiling has been heralded as some of 2019's hottest trends.
Memphis Era: The 80's, Pop Art style design known as Memphis is incredibly vibrant and colourful, which can breathe new life into a fairly basic room. In the same vein maximalism, this rather bold artistic style looks incredibly striking when utilised in abundance.


Open Spaces: An alternative, for those not fond of maximalism, is to keep plenty of space between the furniture. However, keeping these pieces sectioned off in their own distinct spaces. This compartmentalising looks magnificently modern, and allows you to really show off any new pieces you've added to the home for 2019.


Mirrors, Mirrors on the Wall: As long as they're not overdone, a healthy use of mirrors in the room can really brighten the place up. 2019 looks to be a year of reflection, both literally and figuratively, so allowing natural light to flood in and bounce around the home seems only fitting.


A Nest of Nesting Tables: Nesting tables are an example of interior designers dream; they're incredibly stylish and just as practical to boot. Three tables snugly fitting together looks superb and saves plenty of space, however, as soon as guest arrive or a little extra surface area is needed they can separate into distinct little tables; and since the style of 2019 is to make the most practically out of your interior, nest tables are a must


Alternatives to Sofas: One of 2019's favourite pieces of furniture, the chaise longue can act as an excellent alternative to small sofas or alternative chairs. As one of the year's most important themes is to uniqueness, finding a distinctive example of these already uncommon pieces of furniture can serve as a comfortable and eye-catching addition to the home.


Velvet Upholstery: Now, velvet as a whole has become quite popular already within 2019, and utilising it as upholstery for furniture in any room in the house is sure to look stunning. However, placing velvet upholstered furniture in the living room is surely the most effective way to go, serving as a statement piece to showcase to any and all guests.


Return of Graphic Prints: As important as industry and professional opinions about interior design is, it's always important to ensure that your home is decorated in, well, your style. A great way to keep your own tastes displayed is to utilise that which was once considered heresy for interior designers; framed graphic prints. An enlarged image of your favourite book's cover, a foreign poster advertising your favourite movie, perhaps even some of your own work; frame it and finish the room with your own distinct style.


These are the trends that we've been seeing emerge throughout the early months of 2019, and we're excited to see what else 2019 dazzles us with. To see what else catches our eye be sure to keep up to date with our blog or checking our Pinterest, and if you've got any trend predictions of your own we'd love to hear about them! Come tell us on Facebook or send your thoughts via twitter.